A Model of Authentic Brand Contribution – John Varvatos and Stuart House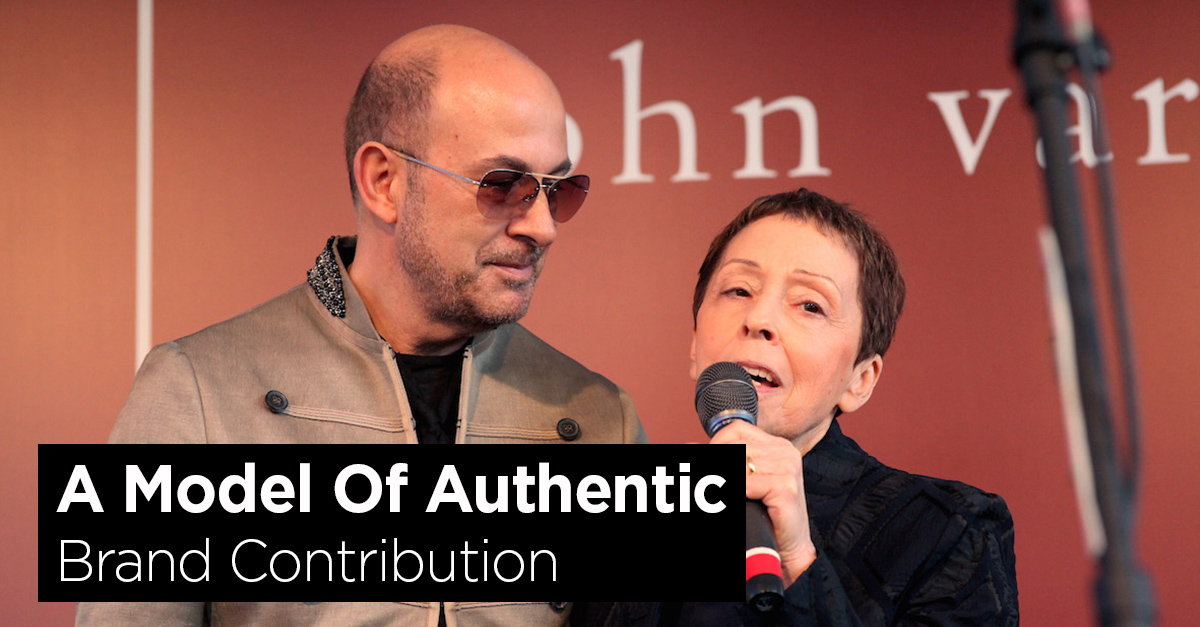 Reading Time:
4
minutes
As brands around the world recognize the benefits, and increasing necessity, of being a force for good in the world, the most critical consideration is to ensure that your actions, commitment and messaging come from a place of authenticity. The enduring partnership between John Varvatos and Stuart House is a model for meaningful impact achieved through an empathetic commitment to contribution.
For the past 13 years, John Varvatos has steadily expanded its support for Stuart House – the Rape Treatment Center at Santa Monica-UCLA Medical Center – that provides free, state-of-the-art care to serve the needs of sexually abused children.
What began as an in-store event to raise money for the LA-based program and to mark John Varvatos' new store in West Hollywood, has now become a sought-after annual benefit. From raising $75,000 in its first year to an impressive $1.5M last year, the brand has become a pivotal partner to Stuart House and a deeply meaningful cause that John Varvatos himself is progressively and personally invested in.
At the same time, this partnership represents an authentic expression of the brand's (and its Founder's) values as a servant leader. The choice of cause itself may seem unusual to some when so many fashion brands are focused on business-focused sustainability, but as John Varvatos explains, 'This is a topic that most people don't want to talk about; it historically has been more of a woman's cause over the years, but there is a great opportunity to bring it out into the open and also show that men need to step up and address this issue."
One goal of shining a light on the issue of sexually abused children is to raise awareness and gain entrance into our national dialogue as a key to its eradication. As described by Gail Abarbanel, President of Stuart House, "Kids sense how uncomfortable adults are in talking about this issue, so we must take child abuse out of the shadows of secrecy." And the numbers are staggering. As Gail revealed, "…1 in 4 girls and 1 in 6 boys are exposed to some form of abuse. The more secrecy that surrounds this issue, the more children will suffer."
No matter what industry you are in, the John Varvatos/Stuart House partnership provides five important insights for brands looking to impact a particular cause:
1. Serve the cause first.
The cause that Stuart House serves is meaningful John Varvatos and his brand, and as a father, John himself recognizes the need for men to take a stand on an issue that has historically been siloed as a female-led cause. Further, rather than celebrating the John Varvatos brand for its support and investment in the cause, the annual event and online auction shine the spotlight on Stuart House, the cause and solution, and the well being of all children.
2. Mobilize the community.
When establishing your brand in new locations or regions – or even re-establishing a brand presence – creating meaningful contributions to the community in which you live and work sends a powerful message to all stakeholders, including your customers. Rather than throwing a typical fashion brand party, John Varvatos repositioned its new store opening as a chance to give back, invest in its new community, and champion an often long-silenced cause. The annual benefit has also placed the John Varvatos store and brand as a reputable, respected fixture in the LA community.
3. Mobilize employees (and stakeholders)
This annual benefit is made even more impressive because it is entirely developed and organized by the internal John Varvatos team, rather than bring in a dedicated team. By engaging the brand's employee base, John Varvatos offers the opportunity to participate in creating meaningful and tangible change that strengthens their company culture as well. As a natural extension of the company's existing internal culture, this is a powerful strategy and experience through which to build employee satisfaction and fulfillment.
4. Make it a long-term commitment
What is striking about John Varvatos and Stuart House is the length of their relationship and commitment, now in its 13th year. As explained by Gail on John Varvatos' commitment, "It is not only his courage to take on an issue that so many people are uncomfortable hearing or talking about, but making a long-term commitment. And not only has he made this a long-term commitment, but grown an event that started in his store to shutting down a major street in LA and raising a tremendous amount of money." Only by investing in a cause for the long term can your brand see the growth in impact over time.
5. Elevate the cause
As John Varvatos explains, "This is not the easiest topic to talk about – but we have shown that you can make change, and that the way people look at these issues can change. This is a lot about changing mentality." By addressing such a sensitive cause as the sexual abuse of children, John Varvatos is raising the dialogue around the issue to build awareness and a mindset shift about the prevention of abuse and treatment for victims. Further, by working with generous partners, namely Chrysler and Hasbro, the benefit has raised sufficient funds to build a facility that sets the national standard for the comprehensive and immediate treatment of abuse victims. What's more, 100% of all of the funds raised go directly to Stuart House setting a high water mark for contribution from all brands.
The John Varvatos 13th Annual Stuart House Benefit will be hosted Sunday April 17, 2016 with a live auction and concert, and special performance by Sammy Hagar. Support can be made through the online auction. The event is a great example of the meaningful and authentic role that business can play in improving others lives, or as John Varvatos states, "No matter how successful you are, find out what's important to you and give back." For more information on Stuart House, visit here.
First published on Forbes:
 http://www.forbes.com/sites/simonmainwaring/2016/04/11/a-model-of-authentic-brand-contribution-john-varvatos-and-stuart-house/#c877efe64a63