Trump, Brexit and the Dueling Narratives That Will Determine Our Future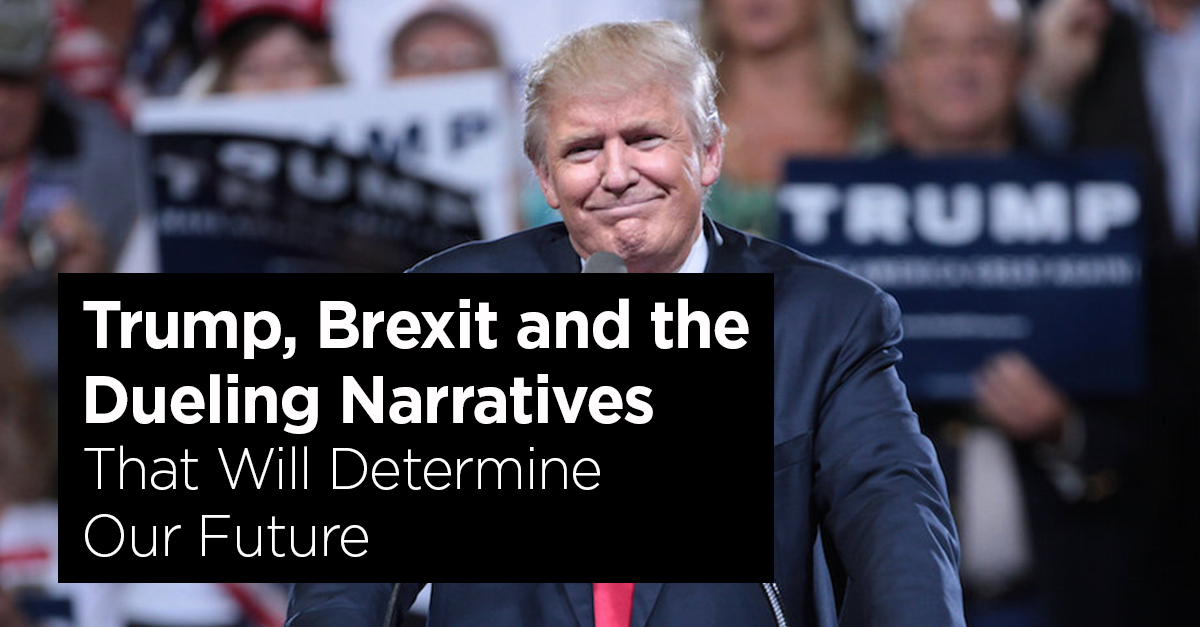 Reading Time:
3
minutes
We are only halfway through 2016 and it has already become a year in which politics in the U.S. and United Kingdom has thrown serious doubt about what the future will look like. In the U.S. Presidential race, Senator Bernie Sanders and Donald Trump have represented in very different ways, an impatience with politics as usual. Yet now that Hillary Clinton in the presumptive Democratic nominee, attention is squarely focused on Donald Trump and what his values, statements and policies would mean for the country and the Republican Party. Putting aside the political expediency of his more recent moderate tone, his message has been one of divisiveness, exclusion, racism and bigotry, alienating Democrats, independents and Republicans alike.
In the last two weeks we have seen the Brexit crisis unfold as Britons narrowly voted in a referendum to leave the European Union (EU). The success of the 'Leave' campaign also turned on messaging that exhibited xenophobia, racism and bigotry, especially around issues such a racism, immigration and Islam. In fact, a Leave campaign group was widely criticized for posting a video narrated by Donald Trump in which he compared refugees to venomous snakes.
Given the growing political isolation of Trump as evidenced by Republican leaders reluctance to attend Trump's convention in Cleveland, and the leadership crisis within Britain's Labor Party as the EU seeks to hasten Britain's departure, time may prove that such policies will be their own undoing. Yet what these two campaigns have in common are themes of fear, anger and a desire to return to the past. In the case of Trump, he wants to 'Make America Great Again,' while the 'Vote Leave' leadership wanted to return to a time when Britain was wholly independent rather than sending 350 millions pounds a week to Brussels (a 'Vote Leave' claim later disproved). That is not to say that all Trump supporters or Britons who voted to leave the EU share all the values of Donald Trump or the 'Leave' movement respectively. In fact, there is a compelling logic to say that there is more security in a return to a familiar past than a commitment to an unknown future. That is why it comes as no surprise that the majority of Britons that voted to leave the EU were from older demographics. Yet if that projected security comes at the cost of countless equally valuable lives, then these divisive and destructive movements must be challenged.
As unsettling as these events are on both sides of the Atlantic, there is equal cause for optimism in 2016. As powerful as the Trump and Brexit narratives are, there are equally forceful movements that are building a more equitable and sustainable future across the globe. The COP21 Climate Conference saw 196 signatories to the United Nations Frame Convention on Climate Change (UNFCCC) governing greenhouse gases emissions mitigation, adaptation and finance from 2020. The UN has since announced its 17 Sustainable Development Goals (SDG's) that are an intergovernmental set of goals focused on achieving three extraordinary things by 2030 – to end poverty, combat climate change and to fight injustice and inequality. Both the Paris agreement and the SGD's have ushered in new narratives for business and society around co-existence, cooperation and collaboration. What's more they have fundamentally repurposed business in the service of realizing a better future as purpose and profit becoming inextricably linked in the context of a challenged world.
Martin Luther King Jr., the civil rights activist, famously stated that, "the arc of the moral universe is long, but it bends toward justice." This is especially true when positive, persistent and resilient pressure is applied in the direction of an inclusive, sustainable and equitable future. More than ever, each of us must identify, propagate and celebrate those narratives that enrich the lives of all people on the planet. For stories don't just describe the past, they write the future. And now more than ever, we need to unite around positive initiatives that will serve the well being of all humanity and our planet.
Image courtesy of Gage Skidmore via Flickr at https://flic.kr/p/HndmbC
Originally Published on Forbes at http://www.forbes.com