I am a huge champion of brands supporting non-profits because both parties benefit so handsomely. For brands, the goodwill, loyalty and profit this inspires is invaluable in a marketplace where companies must prove themselves to be more meaningful to their customers' lives. Meanwhile non-profits get the support they so richly deserve and critical exposure as well.
A great example of this dynamic is underway. In fact, this is the final week to enter. It's Toyota's 100 Cars for Good, a national philanthropy program in which Toyota is giving 100 Cars to 100 nonprofits over the course of 100 days.
Toyota is investing in such an initiative because they understand the difference a new car or truck can make for organizations that are doing so much for the community. They also understand that their customers expect them to play a greater role in building a better future for all of us. And by crowdsourcing the winners through Facebook, they ensure that everyone plays a part in making that contribution.
Toyota also provides the non-profits with valuable social media support. As Molly Reeser, Executive Director of Detroit's Camp Casey, one of the 2011 100 Cars recipients,  noted:
"In addition to a new truck, Toyota gave us the training and resources we needed to get more sophisticated about social media marketing for the long-term.  This has had a real impact, with our 'likes' on Facebook jumping five-fold in very short order."
It's impossible to understate the importance of supporting such an initiative. Not only is it invaluable to the non-profits and their work, but when successful such campaigns inspire as permission slips for other brands to do follow their lead. The Toyota 100 Cars for Good is a great example. Last year's community support has ensured the campaign continues for a second year. And when you consider that Toyota has contributed over half a billion to non-profits across the U.S. over the last 20 years, you can see what a difference the private sector can make to social change.
In the social business world, industry or category leadership is not limited to what product or service you make. A brand's commitment to causes higher than its own profit is what resonates loudest with consumers. This campaign is a powerful demonstration of such a commitment and deserves our support.
So if you're a supporter of a non-profit, or run a non-profit yourself, make sure you enter NOW as you can and you can only enter up till March 28th! Then be sure you vote to help your non-profit get a car to support their great work. The video at the top of the post explains all you need, By doing so, you'll not only help the non-profit you love and encourage more contribution from Toyota, but you'll feel great about yourself as well.
In this age of real-time social and customer engagement I wanted to share two charts that dramatically demonstrate how important timing is to the success of your brand from both a macro and micro perspective.
The first is a chart for Linked In Analytics that breaks out the growing and shrinking industries as defined by the volume of jobs added or lost. Of particular interest is the relative position of each industry. I would encourage you to examine the list and consider what place your brand occupies as defined by the specific mix of skills, services and technologies you offer.
Clearly it's far better to find yourself in the upper right hand corner with a sizable circle indicating growth industries. If you find yourself in the lower right, it is worthwhile considering the prospects on your company in terms of larger macro-economic forces at work and the way technology is changing business. As any entrepreneur (billionaire or otherwise) will tell you, timing is everything in terms of what companies and industries explode and charts such as these give us a window into shifts that shape our success and futures.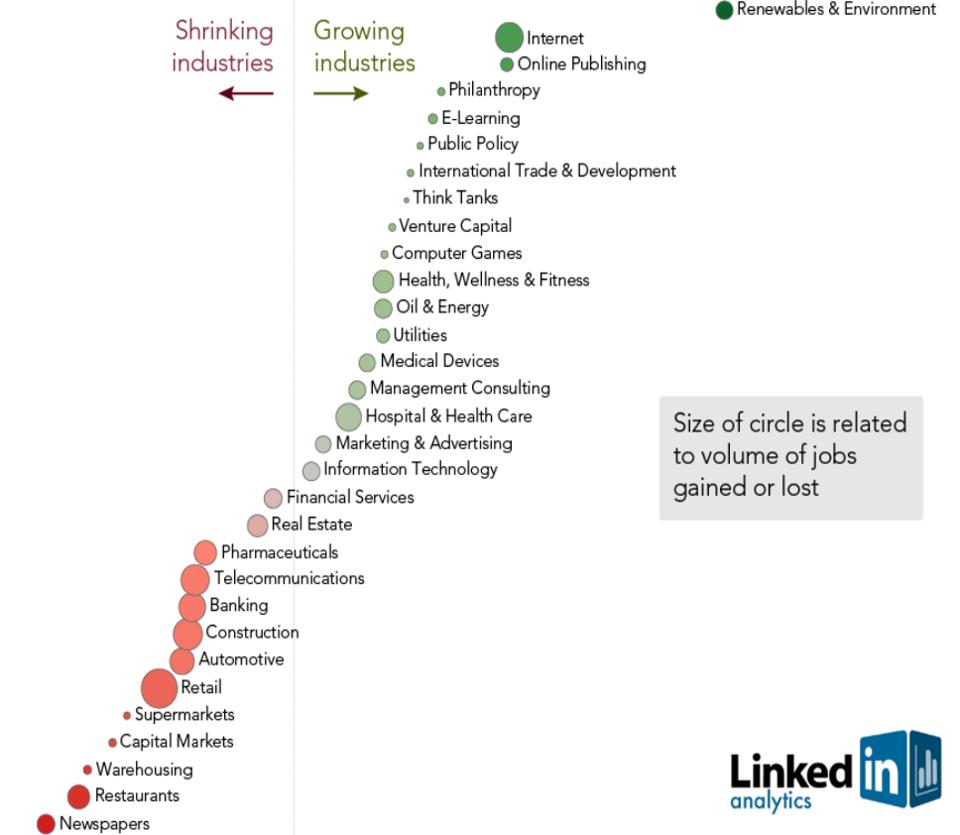 The second chart from U.S. Net habits data illustrates in simple terms how the seconds that a web page takes to load impacts customer abandonment. A few facts jump out:
- 1 in 4 Americans abandon a page takes longer than 4 seconds to load.
- 4 in 10 Americans abandon a mobile shopping site that takes longer than 3 seconds to load.
- 5 in 10 mobile users abandon a web page if it doesn't load in under 10 seconds.
As Fast Company notes, this means just one extra second in page load time could cost Amazon $1.6 billion in sales a year. Or for Google, by slowing search results by just 1/4 of a second they could lose the ad revenue on 8 million searches a day.
So no matter what your industry is, what your brand stands for, or how smart your marketing is, never lose site of the fact that capturing your customer's attention is hard, but losing it can be even more costly.
This is an important film and I hope you share it. It is unconscionable as a father and a man that children are subjected to such unspeakable treatment. It's also a chance for us to help just by sharing this film. By making Joseph Kony famous for his actions. By using the tools we enjoy every day to talk about our holidays, what we bought and what is new, to raise awareness of these crimes against children. This is a chance to show (extra)ordinary people using technology to work together to change their lives and our world.
Here is their webiste with an action kit and here is the film on YouTube also. Finally, follow Invisible Children on twitter here.