For some time now I've been asserting that technology is teaching us to be human again. When I say this, I mean that the ability to witness and experience the lives of others anywhere around the world, often in real-time, awakens in us our innate empathy for each other. There are many recent examples including the earthquake in Haiti, the Pakistan floods, the tornadoes in Joplin and the tsunami in Japan both in the way that the world watched these natural disasters unfold as they happened and in the way that we could respond with donations just as quickly.
In the political sphere the examples are just as plentiful when you consider the Arab Spring Revolutions that have spread through Tunisia, Egypt, Libya and beyond, through to citizen activism of all types including the crowd-sourcing of a new constitution currently underway in Iceland to the Occupy Together movement in the U.S. protesting against unfair Wall Street practices.
It is in this context that I want to share some thoughts on what Facebook unveiled last week at its F8 developer conference, because they enabled each of us to become even more effective storytellers that will change they way we relate to brands, to politicians and each other.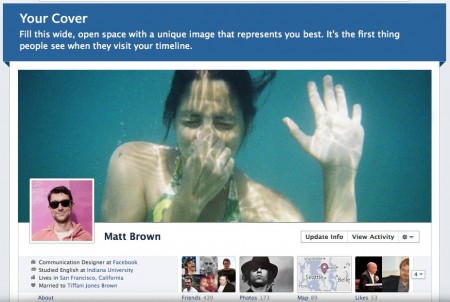 Initially, Facebook and the other social networks that followed it, gave largely voiceless citizens and customers a platform by which to share a little bit more about ourselves and connect more readily with others. Over time such connectivity grew to effectively reweave the social fabric between citizens and politicians, and brands and their customers. But with the introduction of new features such as Timeline released last week, Facebook has armed us with everything we need to become powerful storytellers that can shape the brands we support, persuade politicians seeking office, and build a world we want to live in. As the team at Facebook explained themselves:
"The way your profile works today, 99% of the stories you share vanish.  Now, timeline allows you to create a multifaceted and creative self-portrait that becomes a home for the story you want to tell about yourself and what you want to share with others."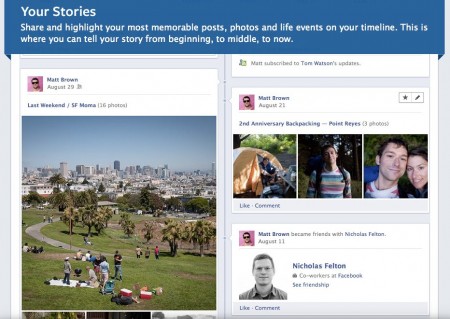 As such, Facebook is tapping into something that advertisers have always known – the true currency of advertising is emotion, and that emotion is communicated through storytelling that creates a connection between a brand and its customer. So what Facebook has done by launching Timeline is to upgrade the ability of regular citizens and customers to become more persuasive communicators about who we are, what we care about, and the change we want to see in the world. What's more Facebook also gave us the new ability to use apps to update our storytelling in real-time, ensuring we never need lose touch with our readers, listeners, supporters or community.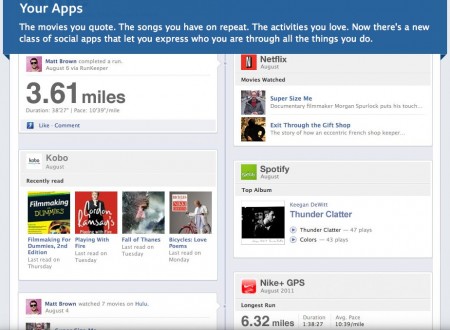 Such new tools are not without their drawbacks, though, in the minds of many users. Strong privacy complaints persist, as explored by Brian Solis and Charlene Li, as many people note that the more we share, the more personal information and content Facebook gets to own. This is a delicate balancing act being performed by Facebook as many users refuse to connect if it comes at the cost of their privacy, yet it is also the responsibility of users to manage what they share and their privacy settings.
Ultimately this tension between storytelling and privacy will have a powerful impact on how culturally transformative social media will be and which social networks survive. I have always felt that social networks, in some way, serve as the digital equivalent of the village well or campfire through which people shared what was meaningful to them through the stories that they told. Sheryl Sandberg, Facebook's COO stated as much saying, "Today, we are a platform for storytelling and bringing people together around stories that matter to them."
It would be a tragic loss if the very platforms that give citizens and customers a powerful voice for much needed social change were rendered ineffective due to confusing, complicated or competing privacy or ownership issues. Our future will be shaped by the stories we tell, and social networks such as Facebook and tools such as Timeline and Ticker have the capacity to serve as important tools for social transformation. The future is something we all own and share, and social networks have the potential to play an historic role in shaping a brighter tomorrow if a balance is maintained that respects the interests of everyone.
Do you believe privacy concerns and ownership concerns ruin the new Facebook features? Or do you believe these new features are appropriate for a world in which everyone lives in public?
Last week I had the privilege of speaking at the Mashable Social Good Summit. I wanted to share the video with you as many people had requested the slides and hearing the dialogue may help you use them most effectively. My topic was 'Building a Private Sector Pillar of Social Change,' and if you don't have the slides but would like to download them, click here. Each case study is hyperlinked so you can explore them further.
I also wanted to share two more presentations that were very inspiring. One is by Scott Harrison, the founder of charity: water (@scottharrison) who gave a dramatic example of how social media can be used to generate community fundraising and support for a non-profit. The third video features by Alec Ross, senior Advisor for Innovation at the State Department (@alecjross), who explained how emerging technologies are being used to address global crises and international diplomacy. Seen together, the three videos give some idea of how for profit, non-profit and government agencies are using social media to build a better world.
Finally, thanks to Mashable for creating an inspiring day and generating amazing online buzz around critical social change.
In light of all the recent developments around social technology, from the launch of Google + to Facebook's f8 conference launch of Timeline and Ticker last week, I felt it especially pertinent to share this interview with Sherry Turkle of MIT. What she invites us to consider is the human cost of our social media engagement which seems all the more relevant as networks like Google+ and Facebook arm us with new tools to become even more effective online storytellers inspiring us to spend more time there.
SM: Hi I'm Simon Mainwaring, here at the IVOH World Summit in the Catskills, New york, and I have the great pleasure of being here with Sherry Turkle, who is the professor of Social Studies of Science and Technology at MIT, and the author of the critically acclaimed book, Alone Together.  It is such a pleasure to chat with you, Sherry. Thank you for your time. Now, one of the things I talk about when it comes to social media is that I believe that technology is teaching us to be human again, yet the thesis of your book might actually go against that proposition. Do you think that's true or not?
ST: I think that's a complicated story. That is to say, we are no using technology in some ways that are distancing us from each other, but I'm optimistic because I think so many of us are starting to realize that something is going amiss when we have dinner with friends and everyone has a phone on the table and interrupts conversations in order to take those calls. When I walked the dunes of Cape Cod that Thoreau walked, and everybody is walking those dunes with their heads down to those devices, something is going amiss.  When everyone is answering emails instead of talking to colleagues at work, something is going amiss. So it's good, but we need to make it good for us.
SM: What would you say is being lost, and what is the cost of that?
ST: Well, I've interviewed hundreds of young people and hundreds of older people and I think that one of the things that is being lost is the ability to tolerate solitude. In my own studies I call it, "I share, therefore I am." That is to say, you go from a position where you say "I have a feeling, I want to make a call," to a position where you say "I want to have a feeling, I need to send a text." So what's being lost is the ability to experience your thoughts and feelings without immediately sharing them and you lose the capacity to collaborate because collaboration is infusion. You need to come to collaboration with a sense of self, with your own ideas and confidence in yourself. You lose the capacity for certain kinds of leadership because, again, leadership requires an ability to lead, not just to poll.
SM: So you feel like we're losing the ability to be present because we're in such a hurry to pass on that experience that we almost cut ourselves out of the equation.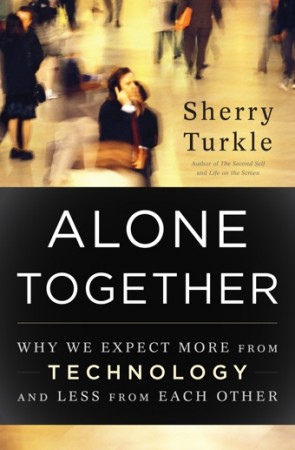 ST: Yes. And we're substituting connection for conversation. I think that's very important. This move from conversation to connection, and we're almost forgetting how nurturing conversation is. Over and over I've interviewed people who basically tell me "Don't call." In Alone Together I have a chapter titled Please Don't Call. The last thing they want is a telephone call. It would take too much time. It's too dangerous. Too much might show. They don't want to be interrupted. It's easier to send an email or send a text and not have the risks of showing themselves in a conversation.
SM: Would you characterize this as a function of the need to now live in public at all times, to always be "on"?  Is that the challenge that we're all facing now, because, given the opportunity to do it with social media and these other platforms, we feel obligated to do so?
ST:  There are several things. We've given ourselves an opportunity to hide. Social media, for all of it's bounties—and I'm very enthusiastic of all the bounties of social media—it also gives us an opportunity to hide. We perform ourselves on social media, and that is different from being ourselves on social media. That ability to perform yourself is also an ability to hide. It leads to something that I call "Fear of missing out." You're always watching what other people are doing and you being to be jealous because their showing their best selves and you're showing your best self. You almost become jealous of the life you live on Facebook. You have to remind yourself that it's your life because you're showing your best self.
SM: Let me ask you a question about that. How different is that to the version of ourselves that we present in the real world, albeit only to one or two or five people at a time? Is it worse because we can reach a mass audience?
ST: No, it's worse because…we're sitting here together and, of course, I'm in a role and you're in a role, but because we're here together, certain things show. We're animals, we're human beings and, really, by the fact that we're here together, we show ourselves to each other, we reveal ourselves to each other. On the network, we can fake it. We can perform ourselves in a way where there is a more polished self. I interview people who really describe to me the time and the care they take on what they present in their social media presence. It's like we're playing avatars of ourselves.
SM: If you had to characterize it in two ways, the long term effects on this, what is the best case scenario, the upside, and the worst case scenario. Give us the spectrum of consequence.
ST: Best case scenario… My favorite line in my book is, "Just because we grew up with the internet, we think the internet is all grown up, and it isn't, and it's time to make the corrections." I think we're at a turning point now where we're ready to reassess and live a saner and healthier life. I think the corporate world is ready to be more attentive to the social and emotional needs of both its consumers and its workers. I think that people are ready to be more attentive to living a saner life in their online presence. We don't want to be interrupted. So the plus side is that we're at a moment where we're going to be able to enjoy the bounties of this technology and minimize its cost. The downside is that we are somehow, just like there's a fog of war, there's a fog of technology. Teaching at MIT for 30 years, I can tell you that technology can make us forget what we know about life, and one of the things that we're forgetting right now is the importance of conversation and of truly being with each other in the ways that matter.
SM: Yet you're still optimistic. Why are you optimistic? What gives you hope?
ST: I'm optimistic because I think human beings want to be with each other and realize the nurturance and the sustaining effects of being with each other and communicating with each other. I think that there's a movement I see in the resonance in my work and in the work of other people who are starting to have this kind of message, including yourself actually, that there's starting to be a convergence in the corporate world and consumer world of realizing that these two worlds have interests that are starting to come together by using this technology in more humane ways, in ways that are better for the social good.
SM: I can't tell you how excited I am by the book. That fifteen-year study on the impact of science and technology is absolutely incredible. I highly recommend it to everyone. Where else can people find you online?
ST: For the book, go to alonetogetherbook.com, or google Sherry Turkle and my web page with all my writings and research will be on that.
SM: Thank you for giving us the gift of all your thinking. A real pleasure to meet you, Sherry.
Do you believe technology is alienating us from ourselves and each other? Or do you feel closer to others for it?