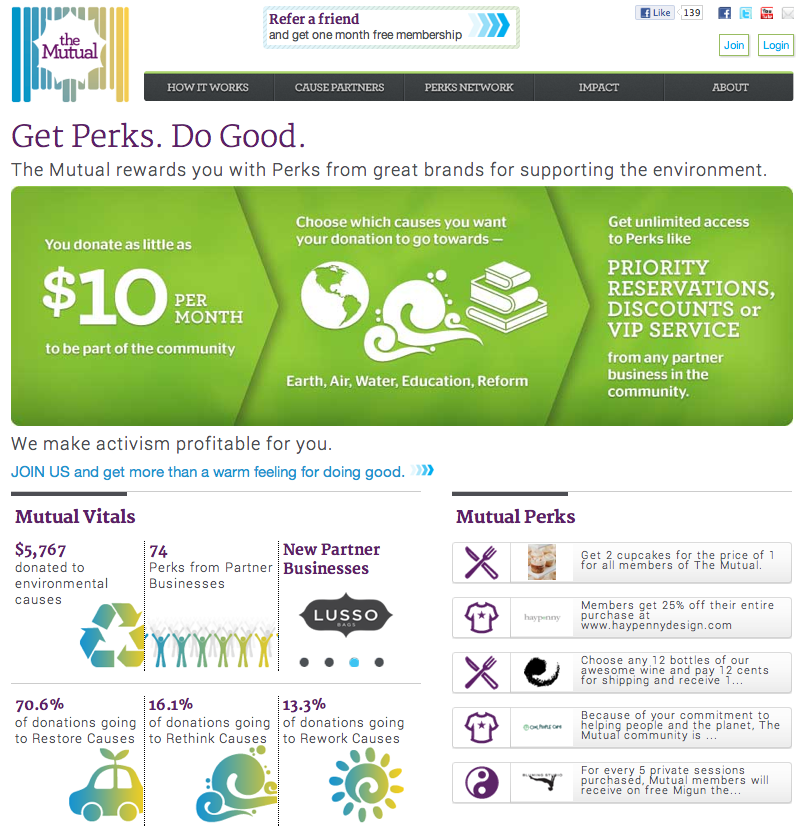 There is a growing number of brand doing social impact work in alignment with their core values in the hope of earning goodwill, loyalty and profits for their company. The Mutual takes that one step further but allowing brands to reward customers for doing good to support the environment. Here's how it works.
The Mutual, a new, Brooklyn-based social enterprise rewards individuals for donating to environmental charities by giving them unlimited access to Perks from businesses. It also helps individuals and businesses live and operate more sustainably by connecting them to environmental non-profits so that their incentive-based model can inspires and reward positive behavior change.
Individuals join for as little as $10 per month and select the environmental non-profit they would like to donate to. In return, they get unlimited access to Perks like VIP service, early access to tickets and discounts from partner businesses such as Brooklyn Brewery, uncommon goods and Zimride, in effect creating an economy for good.
So far the Mutual has already sent over $4500 to charities and will soon be opening in New York, but it is also making a larger contribution through a shift in business mindset and corporate practices. While brands already practice cause marketing or launch employee volunteer programs, the Mutual completes the brand/employee/customer partnership by inspiring customers to act for good in line with the social purpose of the brand. For the change we hope to inspire in corporate and customer practices is a shared responsibility, and without an equivalent shift in consumer behavior, any efforts by companies alone will come up short.
So the Mutual has taken the best of reward programs and charitable giving and merged the two in a model that incentivizes both individuals and businesses to participate. Dan Vallejo, CEO and Co-Founder of The Mutual explains:
"The problem with bringing about significant change is that no one has made it easy. With The Mutual, we make doing good easy and advantageous for individuals and businesses. It's really just bringing the business and philanthropic worlds a little closer together in a practical way. We call it profitable activism."
The membership model provides individuals with unlimited access to a range of Perk types in The Mutual network, which quickly offsets the cost to join. On top of the rewards, 80% of the membership cost is tax deductible.
The membership model also provides an uplifting alternative to daily deal sites for businesses. There is no cost for businesses to join The Mutual and The Mutual does not take any cut of the deals offered. As Valljo explains:
"Daily deals destroy margins for businesses and create discount-addicted shoppers that do not return.  We took the essence of what makes a coupon work and redesigned it to be customizable for the needs of individual businesses, and more importantly to foster loyalty and repeat business over the long term."
Members can either choose a specific cause or spread their donation equally across all five causes, which the Company calls the Smart Model. The Mutual believes the Smart Model allocates members' donations across the right blend of areas to create the greatest collective impact on the environment. Cause Partners include:
To find out more about The Mutual, click here, and you can follow them on twitter at @the_mutual.
Gagen MacDonald and APCO Worldwide recently launched this fantastic infographic that does a great job of delineating an overlooked aspect of social media engagement – the benefits of internal social media to a company and its employees.
As readers of my blog know, I'm a huge champion of brand definition and purpose because that enables a company to be more meaningful to its customers lives. But too often brands fail to ensure internal alignment around a purpose, core values or mission, which means customers often hear one thing from a brand but experience another from its employees. Gagen MacDonald and APCO Worldwide do a great job of a teasing out where to start and what to focus on internally to avoid this pitfall.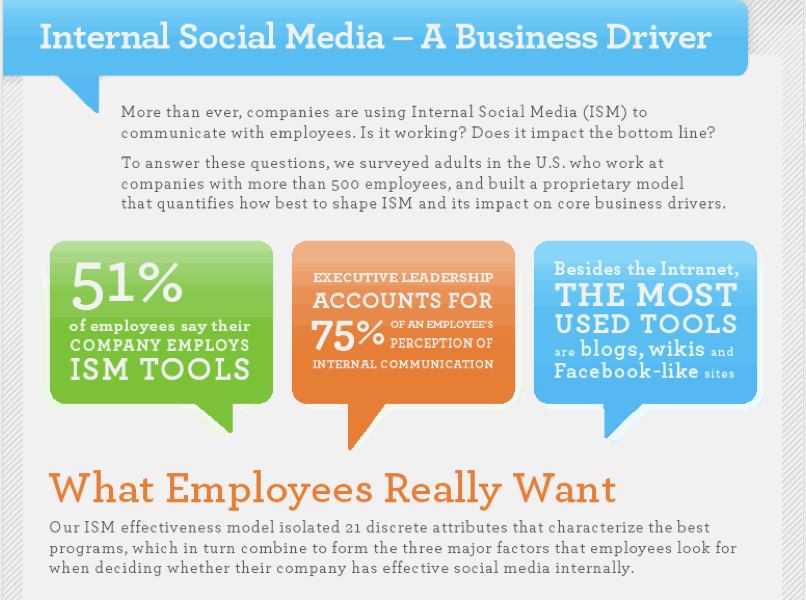 What stuck me about the first section below if how how executive leadership accounts for employees perception of internal communication. At 75%, it is critical to get leadership buy-off on the need for a social media ecosystem within the company itself. It will not position the brand to be social with its customers but set a powerful example for employees to invest in social media training and engagement themselves.
In the next section, it's critical to note that a company's employee base – like its customers – is a media-savvy audience that judges the effectiveness of internal social media. That judgment, in turn, affects the ability of a company to attract top talent as potential employees who know only too well that a successful company must also be a social engaged company.
Finally, I have isolated the top five criteria for effective internal social media as defined by employee. What could be more important to a company that the ability to attract and retain top talent, to collaborate and innovate more effectively, and to generate business referrals. Each has a direct bearing on the ROI of social media and the productivity of a company's workforce.
Armed with such insights, here are the steps you must take to adopt, integrate and proliferate internal social media to build employee satisfaction and your company's bottom line.
1. Consolidate C-suite internal social media commitment
2. Establish a clear social media protocol/crisis policy
3. Share this policy with all employees across all divisions
4. Provide employees with organic social media training
5. Create a collaborative, cross-division culture that communicates using social media channels
6. Create a coordinated content calendar across different social media platforms
7. Grant employees social engagement permission and reward their participation
8. Integrate traditional, online, social media efforts to ensure a consistent customer experience
For the full infographic, click here. To follow Gagen MacDonald, click here, and APCO Worldwide here. To see all the results of the 3rd Annual Employee Engagement Study here.
What would you say is the major obstacle to internal social media at your company? What would be the greatest benefit?
The We First Social Branding Seminar was great fun and a huge success. We had the pleasure of spending two days in the rooftop ballroom with over 140 brands including folks from Coca-Cola, Disney, AOL/HuffPo, and TOMS.
In so doing the sponsors, attendees and We First we able to support over 40 non-profits to be there as a small way to support their incredibly important work that covers everything from cancer research to child literacy to ocean clean up.
We'll be holding the Seminar again (date to be announced) and if you're interested in attending, just visit www.WeFirstSeminar.com now and enter you details so we can send you the information first. In the meantime, here's a few pics from the event.
So if you are interested in joining us for the next We First Social Branding Seminar, visit www.WeFirstSeminar.com now, enter your email and we'll send you the preview information first. We'll post pics from Day 2 soon.