"Nothing seems more obvious to me that a product or service only becomes a brand when it is imbued with profound values that translate into fact." – Richard Branson, Founder of Virgin Group
From F500s to startups, we see brands of all sizes and across all industries make the same critical mistake: They don't know who they are.
As Simon Senek says, most organizations know what they do, but very few know why they do it. In fact, according to Deloitte's 2013 Core Beliefs & Culture survey, 54% say their company's purpose is not clearly conveyed to all employees. If you can't articulate your own company's values and purpose, imagine how difficult it is for your customers to understand or want to join in and help you. While customers may like a particular product or service, they can't talk about it well across their own social media channels because they simply don't know what your company stands for as a whole.
To fix this problem, make sure you can answer these 3 questions:
Why does your company exist? Why did you start your company? Who was it built to serve? In short, what is its purpose?
What are you the only one of? What makes your company different? What do people at your company understand that no one else does?
When you're at your best, what are you doing? What does your company look like in action? And if you had to distill your brand's purpose down into one phrase or idea that you could "own" (distinct from your competitors), what would it be? (For example: unlocking human potential, scaling social change, inspiring innovation.)
Remember: An undefined brand is unshareable. Unfortunately, too many companies rush past telling what they stand for and get lost in all the specific marketing tactics (PPC, Facebook ads, email blasts, etc). But your first concern must always be to make sure you're sharing a story worth telling. Once you've clearly defined your brand's purpose, you need to frame it in the context of the customer and how, together, you can change the world.
—–
Subscribe to We First on Youtube, Facebook, Twitter, Google+ and LinkedIn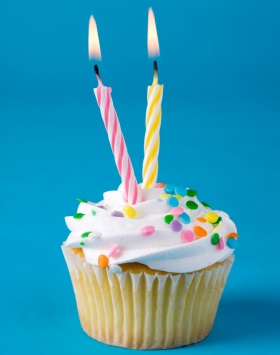 It's hard to believe but We First is officially 2 years old this week! We want to give everyone a chance to celebrate with us, so read on for a special gift and invitation below…
The We First book came out on June 7th 2011, hit the New York Times bestseller lists on June 14th, and the company was born the week after. Most companies fail within the first two years and so it's no exaggeration to say that without your support, we wouldn't have survived and the We First message wouldn't be out there. Thank you so much.
The last 24 months have been pretty crazy and hilarious including:
-4 temporary offices spaces, a break-in, and a stalker
-A blur of airport lounges, power point hunts, and rolling flight delays
-A newfound love of earplugs, neck cushions, eye masks and window seats
-Countless times catching a taxi home- only to remember the car was parked at the airport
-The thrill of seeing the book translated into Korean, Russian, Chinese and Mandarin
-The privilege of sharing the message from Australia to London to Mexico to Brazil to Turkey
-A renewed belief in the fundamental good nature of people and our innate empathy for each other
-Breathless awe at the countless citizens and customers now standing up to institutions of all types to help promote the greater good
As a way to say thank you, for the next two days (since we're two years old!), we're offering everyone a special discount to the upcoming We First Social Branding Seminar in September. Just enter promo code: BDAY (all caps) when you register at www.WeFirst13.com
This means:
-You'll save $500 (get a ticket for just $1495 vs. the current price of $1995)
-You'll get an extra ticket FREE to invite your favorite non-profit or Foundation.
-You'll get two days training with some of the best marketers in the world showing you how to scale your brand, customer communities, and social impact.
-You'll hear from global leads at Coca-Cola, the UN Foundation and charity:water, with more super-exciting announcement to come!
-You'll do it all at the swanky, LEED certified W Hollywood with some of the smartest folks we know.
This 2 year milestone is a pretty big deal, and this discount is our heart-felt thank you. Please share this promo code with other leaders you know who need this training.
So grab this special discount today or before midnight tomorrow, Friday July 26th, when this birthday special will end. We're already on our way to having another sold-out Seminar again this year.
Here's to many more years, and you have our commitment to continue to help business grow and build a better world.
Subscribe to We First on Youtube, Facebook, Twitter, Google+ and LinkedIn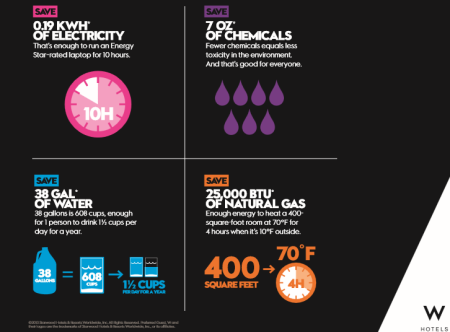 At We First, we only partner with extraordinary companies that share our same drive and vision for positive social change, and on that note, we're so excited to host the 2013 We First Social Branding Seminar at the beautiful boutique W Hollywood hotel. Sitting at the intersection of Hollywood and Vine, under the shadow of the iconic Hollywood sign, the W Hollywood is LEED Silver certified and combines eco-conscious construction with stylish design, a vibrant social scene, and dramatic views of L.A.
Starwood Hotels is the largest luxury brand hospitality company and is leading the way contributing to green-conscious communities and a cleaner environment. The W Hollywood is one of the largest LEED-compliant properties in the area and puts a new Hollywood glamour spin on sustainability. Key sustainable-design elements include:
• Reduced heat island effect due to 100 percent covered parking.
• Reduced potable water usage with drought-tolerant plants and high-efficiency irrigation systems, which contributed to a 70 percent reduction in potable water usage.
• High-efficiency lavatories result in a 32 percent reduction in water use for the entire building.
• 24 percent of the building materials being locally manufactured.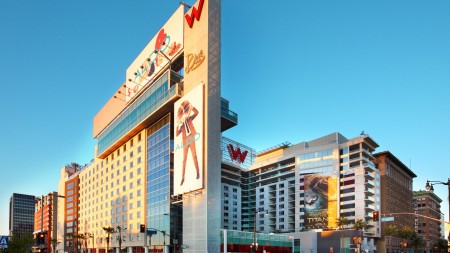 It doesn't just stop with design, as Starwood actively shares its mission with its customer community and gives great incentives for taking part in their sustainability goals. For example, 30% of guests choose to participate in its Make A Green Choice program which rewards guests with 500 Starpoints for every night they pass on housekeeping. One night makes a big impact: Almost 40 gallons of water or enough electricity to run a laptop for 10 hours are saved.
Starwood has been one of the early voices leading the charge around the idea that business can be a force of good, and that consumers want to play an active role in doing good. As Frits van Paasschen, President & CEO of Starwood Hotels & Resorts Worldwide, Inc. says,
"Doing the right thing for the environment and for our communities is more important than ever. Our customers and owners are asking for it. Our guests expect it. And our associates are passionate about it. That's why Global Citizenship will play a key role in all of our activities. We aspire to be as respected for these efforts as we are today for our innovation and our brands."
Join us at the beautiful W Hollywood, September 24-25, for hands-on training from some of the best marketers in the world. The 2013 Social Branding Seminar will show you how to become a purpose-driven, social brand and create passionate customer communities. So whether it's CSR, sustainability, cause marketing, Foundation work or simply how your brand brings its core values to life to ensure it's meaningful and relevant to customers, you'll leave with a Social Branding Blueprint tailored to your specific branding issues. Check our latest infographic for a special discount code to save 25% when you register today.
Subscribe to We First on Youtube, Facebook, Twitter, Google+ and LinkedIn