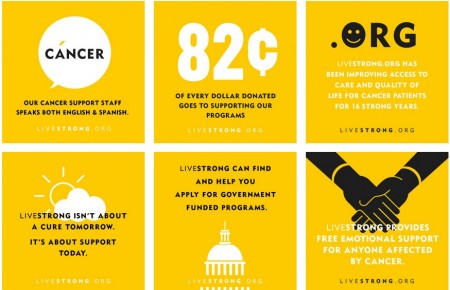 Today is LIVESTRONG Day and the anniversary of the launch of their now iconic LIVESTRONG wristband. Since 2004, the Foundation has recognized one day each year as LIVESTRONG Day to honor the 28 million people living with cancer. Yet this year marks a special opportunity: to drive the conversation past the Lance Armstrong controversy and shine a refocused light on the incredible ways the organization impacts thousands of lives every day. Many people will probably find the actual breadth of contribution by LIVESTRONG both surprising and inspiring.
While most people are aware of the foundation, they may not have been able to articulate precisely what LIVESTRONG does. They know it's something to do with cancer and helping those affected, but just how the organization helps may have been unclear. As well, some people were questioning whether LIVESTRONG could continue without Lance. But today LIVESTRONG is asking its passionate community to help share exactly how their free services have helped over 2.5 million people over the last 16 years, and how they are Still Strong and committed to helping millions more.
For example, did you know:
- 82 cents of every dollar donated goes to supporting LIVESTRONG's programs.
- LIVESTRONG provides free emotional support to anyone affected by cancer- that means not only those fighting it but also caregivers, friends, and family.
- LIVESTRONG can help navigate insurance and financial concerns and coordinates fertility service discounts to help survivors still have families after cancer.
You can learn more at LIVESTRONGDay.org where they have made it easy to share these important facts.
LIVESTRONG has so many powerful stories to share, about survivors, families, and the heroic members of its own staff.  As LIVESTRONG Foundation CEO and three time cancer survivor Doug Ulman says:
"We at the LIVESTRONG Foundation will always be listening to and communicating with survivors. We have a lot of work to do. And we cannot do it alone. Fighting cancer requires collective action from everyone."
Support LIVESTRONG and cancer fighters and survivors by re-tweeting their messages today to raise awareness and support for those that need it and to empower LIVESTRONG to continue to provide such invaluable free services.
Subscribe to We First on Youtube, Facebook, Google+ and LinkedIn

Last month, the United Nations marked 1000 days until the 2015 deadline of the "Millennium Development Goals," a program started in 2000 with the goal of eliminating the worst impacts of human poverty within 15 years. This countdown was, in part, a response to data from the Organization for Economic Co-operation and Development that countries are giving less and less to international development. In the steepest reduction in 15 years, aid was down 4% last year and 2% percent in 2011. Unfortunately, many of the programs designed to help developing nations reach the Millennium goals are not backed by NGOs, but by shrinking government aid budgets.
With a persistent European economic crisis and philanthropies facing continued funding challenges since 2008, it's time for the private sector to step up and become a third pillar of social change. Business is slowly emerging as such an entity, and those leading the charge are driving successful Corporate Social Responsibility (CSR) initiatives and embracing models of "contributory consumption" (putting a small portion of the proceeds of every sale towards a cause) and the "one-for-one model" pioneered by TOMS. But really impacting the world's most serious humanitarian problems requires scale and speed that only a collaborative Global Brand Initiative (GBI) can deliver.
Utilizing its vast resources, expertise, management, and distribution networks, a unified and well-organized Global Brand Initiative has the power to tackle the world's most serious humanitarian crises: poverty, malnutrition, infant mortality, ignorance and illiteracy, and joblessness. In order into move the needle, there are two elements that business must embrace to become a coalition of purpose-driven brands that build their bottom line and a better world:
Subscribe to We First on Youtube, Facebook, Google+ and LinkedIn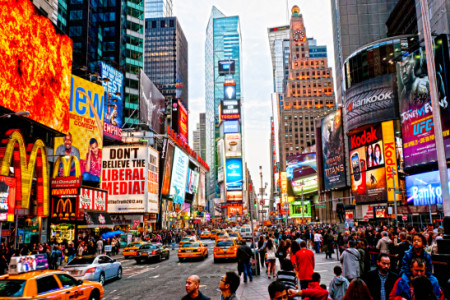 Guest post from Gary Schwartz
I was speaking with David Epstein, the founder of The Unreasonable Institute, the brainchild of Unreasonable at Sea, the Google sponsored innovation ship that is presently sailing from port to port globally.
Mr. Epstein's mission statement is borrowed from George Bernard Shaw who in 1903 wrote in Man and Superman:
"The reasonable man adapts himself to the world; the unreasonable one persists in trying to adapt the world to himself. Therefore all progress depends on the unreasonable man."
The Unreasonable Institute is based in Boulder, Colorado and is working to bring entrepreneurs, innovators, thinkers, and investors together for social change. He now has these same folk on a ship sailing the world with that disruptive mandate.
What Mr. Epstein is championing, and what Mr. Shaw posited over 100 years ago is applicable, if not essential, across all verticals today. In the 2010's, when industry after industry is being rudely disrupted, we may need to be more unreasonable about our search for solutions and our adaptation to the new status quo. We have to become superbrands.
Man and Superman
Music, retail, media buying, broadcast, publishing are all incumbent industries that have, or are, about to pivot in a profound and irreversible way. Many extant business models will dry up. Many old revenue streams will become commodity channels or be circumvented over-the-top by new technologies or new business models.
Telecommunications, more than any other industry, has profoundly impacted businesses. Some bemoan that "mobile" innovation has horizontally cut many companies at the knees.
Telecommunication innovation and disruption is not new. The history of telecommunications is the history of open systems and the invisible hand that attempted to close these systems: From RCA closing down FM Radio and early television. It is the same recent history of Apple disinter-mediating the wireless carriers with an "internet device" and then turning around and using the same iPhone to shut down the Mobile Web with a closed App Store.
What is new about telecommunications in the 2010s is the pervasive nature of the technology, the democratization of information and access, and the liberation of the consumer.
The new entrepreneurs, innovators, thinkers, and investors that are sailing on Epstein's ship are the crew of innovators that needed to rethink the way we communicate with this new consumer. And this requires a motley crew.
Chief Unreasonable Officer
Labels, Retailers, brands, publishers, and broadcasters cannot simply open innovation labs in the vain hope that they can reinvent their business from within. Forces are at play in the mall and in the media houses that will require some unreasonable thought. The walls of our store are porous (Mike Duke) and the internet cloud is in our malls to stay.
To paraphrase Mr. Shaw: The reasonable person adapts to the world; the unreasonable person proactively turns the tables.
How do new-age brands become unreasonable?
- Industries need to understand their new world and their new consumer. This world is made up of consumer moments across their connected-screens during the course of the day. Ten years ago, you never needed to follow these consumers; now you need to plot their screen journey in minute detail.
- The value may not lie exclusively on the screen but in connecting these screens. In a world where (according to Google's Multi-screen Report) over 90% of people use more than one screen to accomplish a single task, brands need to focus on the "digital Velcro" to connect these screen experiences. One screen + another screen = a multiple of value: (1+1=3)
- Stop relying exclusively on third parties and social networks to find your consumer. "Dating services" are important . . . but you need to get out more. Forge a direct relationship with this new connected consumer.
- Be unreasonable. Believe that your consumers can love your product and can share a common dialogue with your brand on their private and personal screen. This maybe simply the ability to shop for a brand seamlessly across their screens understanding the needs of the consumer at that moment of the day on a particular screen form factor. This maybe establishing a common interest (wellness, nightlife, etc.) and become part of their multi-screen narrative.
The new Chief Digital Officer needs to create superbrands, and to do that she needs to be unreasonable across all her consumers' connected screens.
Gary Schwartz is author of The Impulse Economy and content chair of the Multi-Screen Summit in NYC, June 11th and 12th. For information on the event, click here.
Subscribe to We First on Youtube, Facebook, Google+ and connect with me: Twitter | LinkedIn | Facebook | Google+