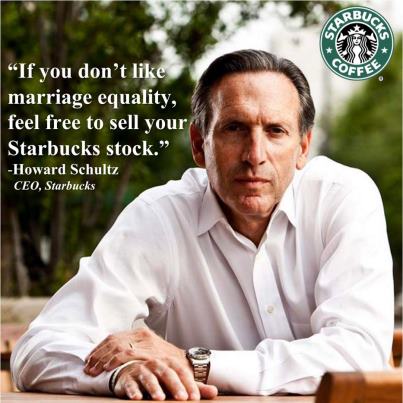 Howard Schultz has long been know for his strident leadership positions from calling for a CEO boycott of corporate campaign donations to his 'Create Jobs for USA' which invited customers to contribute $5 to help entrepreneurs kick start the national economy. This week he went one step further in his support of same sex marriage.
In doing so Schultz drew and even starker line between those CEO's and companies that lead with their values and those that avoid social issues for fear of hurting their customer base or bottom line. This begs the question, "Which is better for your business?"
Schultz's leadership style is not without dangers. In the company's annual shareholder meeting this week, he was questioned over the disappointing quarter and whether the boycott of Starbucks by some customers opposed to same sex marriage was partly to blame. The questioned elicited a succinct response from Schultz:
"Not every decision is an economic decision."
He went on to explain, "The lens we use to make decisions is the lens of our people. We want to embrace diversity," for which he received  applause from shareholders and staffers.
While Schultz explained that this wasn't an economic decision, his values-driven leadership does in fact add enormous value to the brand because he taps into what research reveals is the most important consumer expectation today – that brands demonstrate social responsibility and improve the lives of their customers.
As these insights from Edelman's GoodPurpose Report 2012 reveal, consumer's preference for social purpose as a motivation to recommend, promote or switch to a brand has increased consistently since 2008. This is especially true among the next generation of leaders, Millennials, who are now in their early 30′s and assuming management positions. As the recent TBWA study, 'The Future of Social Activism' reveals they would be more likely to purchase from a company, think more highly of a company and seek employment from a company that supports a good cause.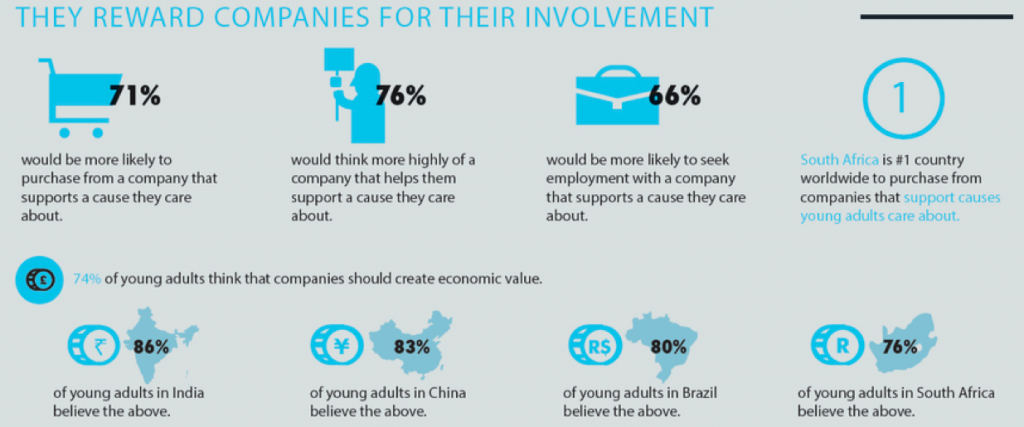 So while Schultz is making an important statement about his personal and corporate value, but he is also demonstrating an authentic commitment to Starbuck's mantra of 'Shared Planet' and this is very good for business.
To adopt an equally compelling and authentic leadership position, any CEO (no matter how large or small the company) must do the following 5 key steps:
1. Define what the company stands for, its core values and mission.
2. Communicate those values to employees, shareholders and customers.
3. Make an authenticate contribution in alignment to those core values.
4. Be willing to be held accountable for actions consistent or inconsistent with those values.
5. Inspire their employees, customers and all stakeholders to work together to achieve the brand's stated purpose.
When a CEO does this he or she can expect to enjoy the following 5 key benefits:
1. Clarity of business strategy in the face of a fast changing marketplace.
2. Greater employee retention, satisfaction and productivity.
3. Increased customer engagement based on shared values and a common purpose that inspires customers to promote the brand.
4. Improved PR, customer goodwill and brand loyalty.
5. Personal fulfillment that comes from the contribution the company makes to society that also drives business.
Do you believe that CEO's should expand their role to include values based decisions or limit themselves to fiscal responsibilities?
 Subscribe to We First on Youtube, Facebook, Google+ and connect with me: Twitter | LinkedIn | Facebook | Google+
One of the constant themes of my blog posts over the last year has been the need to cop-create content for your brand with your community. One great example is You Tube sensation, 'Epic Rap Battles'. Here's just one example of their videos (apologies for the ad up front).
The way it works is simple. Nice Peter, who started the concept with fellow actor/comedian Zach Sherwin in partnership with Maker Studios, simply asks his community of fans which epic rap battle they would like to see. It started with John Lennon vs. Bill O'Reilly, hit its stride in Episode #2 with Adolf Hitler vs. Darth Vader (62 million views) and quickly built to a dedicated You Tube channel ERB. Here's sneak peak behind the scenes look at making the video above.
Obviously, not every brand has the luxury of free-wheeling comedy but what made 'Epic Rap Battles' successful is instructive for all our marketing efforts. here are five key things they got right:
1. CROWDSOURCE: the simple act of asking your community to tell you what they want has driven the success of this concept, community and You Tube channel.
2. EVOLVE: This concept originally was a live performance but migrated online and to social media to take advantage of the scale of new scalable technologies). As background in 2010 this concept was a live segments called EpicLLOYD and MC Mr. Napkins.
3. REINVENT: The concept takes something familiar from pop culture and reinvents it both in terms of how people are presented but also through the rap battle format.
4. FOCUS: When the Adolf Hitler vs. Darth Vader battle took off, the creative team realized they had something that worked and focus attention and resources on it rather than diluting their audience or messaging.
5. DIVERSIFY: Building on the success of the videos on You Tube, the brand expanded across its Facebook brand page, Twitter, iTunes (buy the rap songs), merchandising and beyond.
To see watch more videos, click here, but here's the key message. When you see something that really works and that aggressively builds a community of raving fans, see what lessons you can take from their efforts and transpose across to your business.
Subscribe to We First on Youtube, Facebook, Google+ and connect with me: Twitter | LinkedIn | Facebook | Google+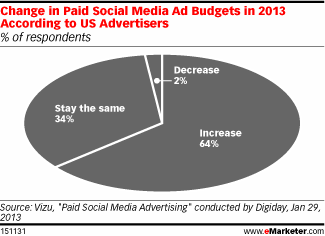 Recent studies conducted by Digiday for Vizu as reported by eMarketer show that marketers are looking to increase spend. In fact 64% of respondents said they will increase paid social media ad spends. This research demonstrates modest growing importance of social media ad spend with the full spectrum of marketing budgets but it's instructive to view this latest research with an eye on the future.
IBM's 2012 Global CEO Study, 'Leading Through Connections,' projects a 256% increase in social media spend with a 61% decline in traditional media spend. In fact, social media spend comes in 2nd on the list of customer interaction tools projected over the next 3-5 years. In fact, it's a mistake to view any one piece of the marketing spend in isolation but rather observe the changing mix that reflects shifts in consumer and technology.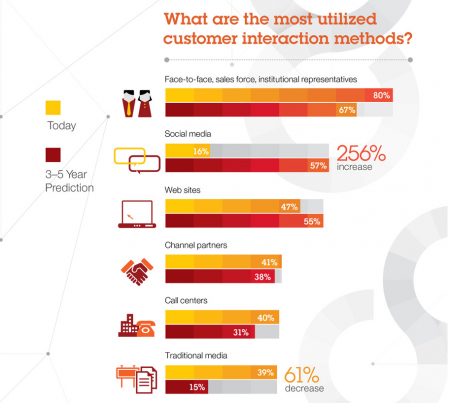 Ultimately I believe the consumer purchasing journey is a forever shape-shifting dynamic and that what matters most is not where brands spending their advertising budgets but rather their ability to remain nimble enough to keep up with their customers.
This capacity necessitates a painful shift away from dependence on pre-existing business models, profits centers and media plans towards investments in social listening tools, emerging technologies and al the internal restructuring this implies. What is clear, however, is that the new dialogue between brands and consumers, hopefully moderated by ad agencies, will become increasingly fractured across media channels, specific topics and niches audiences. While this makes the marketer's job more difficult, it also provides the opportunity to speak more directly to a growing number of specific audiences who, sufficiently motivated, will happily share the responsibility for promoting your brand.
Subscribe to We First on Youtube, Facebook, Google+ and connect with me: Twitter | LinkedIn | Facebook | Google+